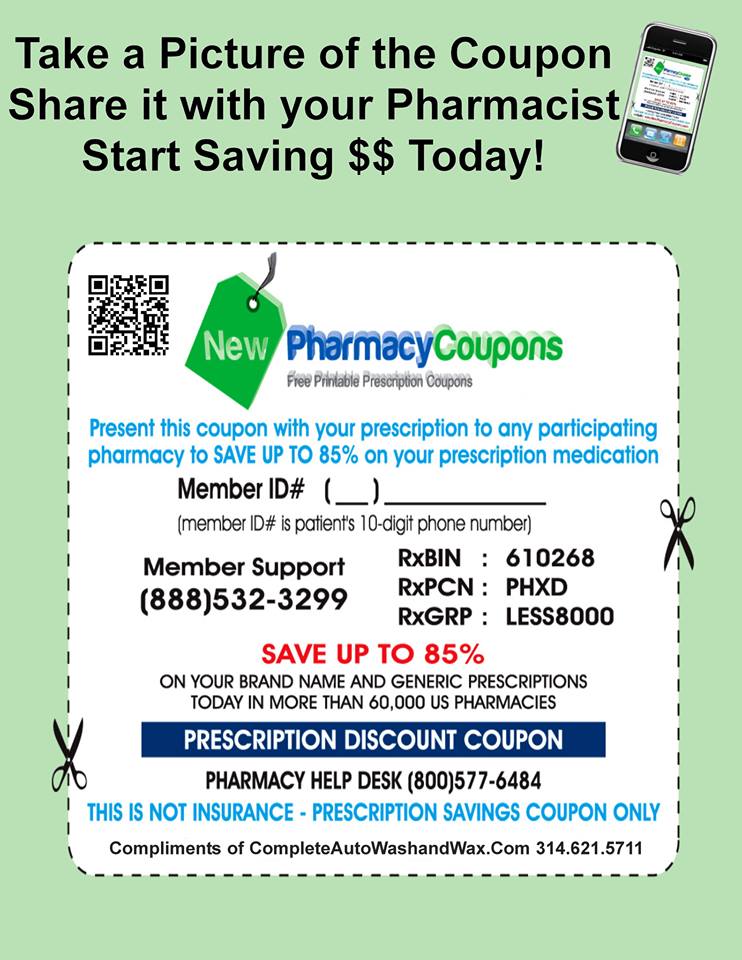 New Pharmacy Coupons was created to help the uninsured and under-insured nationwide save money on their medications. Prescription drugs are a large component of every family's budget. Our goal of helping people across the country save on their medications is a MISSION worth joining. Best of all, it's FREE!
This coupon will save the coupon holder 10% – 85% on many FDA approved brand-name and generic medications. The coupons can be used over and over at over 60,000 pharmacies nationwide including: CVS WALGREENS RITE-AID WAL-MART TARGET KROGER K-MART SAFEWAY COSTCO SAMS CLUB and many local independent pharmacies and regional chains.
It is always FREE There are no age, income or other exclusions. There are no forms to fill out and all members of a family can use the coupon.
How does this valuable coupon work? Simply share the coupon with your pharmacist and they will enter the codes into their computer system. The coupon holder then becomes a member of one of America's Largest Rx Buying Groups.
This program covers your entire household and it is pre-activated and can be used immediately.
Individuals who will benefit the most include:
◾Those with no insurance
◾Those who may have insurance but have limitations like high deductibles, non-covered drugs, high copayments or caps. Seniors who fall into the donut hole of their Medicare
Part D

Employees who are in their waiting period for healthcare coverage
Employees who cannot afford COBRA payments when they lose their job
Employees who cannot afford to cover dependents
Our coupons are always FREE and we require no personal information. Just snap a photo of the coupon, present the coupon to your pharmacist and save.
For more information call the Pharmacy Help Desk: 1-800-577-6484 or 314-621-5711
BID FOR MY MEDS. Where certified pharmacies from around the country, bid on your prescriptions.
That competition guarantees you get the lowest price. Plus! You'll get the true retail price. And! You can see if there is a generic equivalent. Many times your Doctor may not know if there is an equivalent medication. Try the system free and see if it works for you. http://ez.com/bfmm
Or call TOLL FREE: 1-844-243-4633